Partilink GRA-H02C02, HDMI 2.0 to 4K@30Hz USB-C VideoSync Capture, is designed to capture 4K@60 HDMI video and pass-through with VRR mode, then uplink 4K@30Hz data to the connected computer via USB-C. It allows the user to capture video from sources such as PS4, XBOX, Switch, camera … etc. for filing, re-editing and streaming

With the function of VRR mode, streaming media is made easy to capture every sound and movement beautifully. This is the super capture tool for gamer to realize the captured video professionally in front of the audiences.
FEATURES
HDMI 2.0 input supports 4K@60Hz and HDR
Video captures resolution up to 3840x2160@30Hz or 1920x1080@120Hz
HDMI 2.0 loop-out port supports resolution up to 3840x2160@60Hz, 2560x1440p@144Hz and 1920x1080@240Hz, HDR and VRR (FreeSync),
Supports AUDIO headset (TRRS only)
Captures dual HDMI input sources to display in PIP or PBP mode simultaneously when VRR mode disabled
Compatible with third-party applications, such as QuickTime, OBS, XSplit, vMix, Zoom, Skype, Gamecaster, Broadcaster...etc.
APPLICATION
Gaming: capturing to edit the file for storage on the connected PC, or live steaming to display in various media platform such as YouTube, FB, Instagram …etc.
Business: video conference, live streaming to promote and demonstrate product
Education: remote teaching and training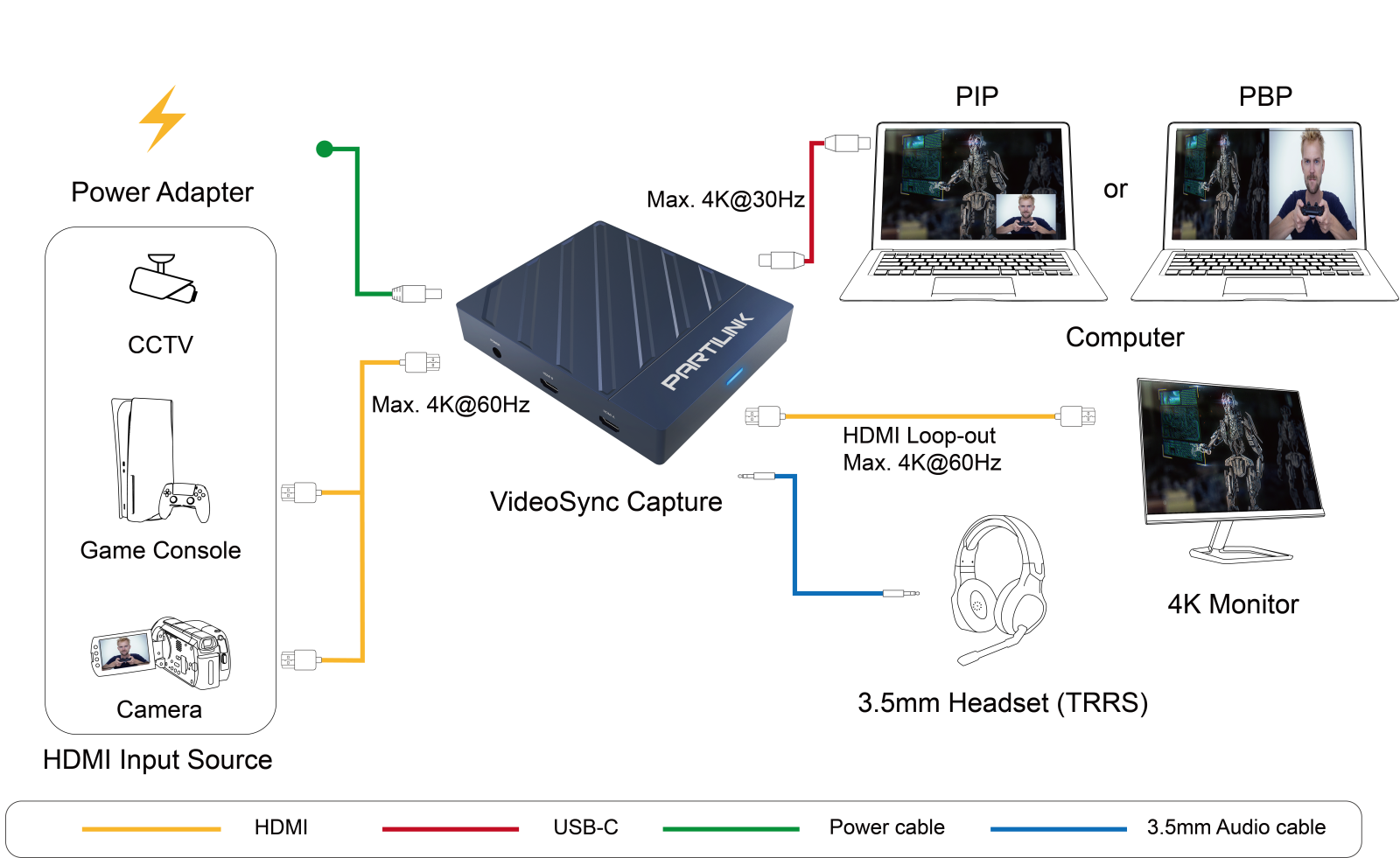 MODEL NO.

GRA-H02C02

INPUT INTERFACE

HDMI 2.0 Type-A x 2

OUTPUT INTERFACE

USB Type-C (SuperSpeed) UVC x 1,

HDMI 2.0 Type-A x 1

INPUT/ OUTPUT (LOOPOUT) RESOLUTION

3840x2160p 60/50/30/25/24Hz

1920x1080p 240/ 144/120/60/50/30/25/24Hz

2560x1440p 144/60Hz

1920x1080i 60/50Hz

1280x720p 60/50Hz

720(1440)x480i 60Hz

CAPTURE RESOLUTION

USB3.0 SuperSpeed

NV12

YUY2

3840x2160p 30 Hz

2560x1440p 60 Hz

1920x1080p 120/60/50/30/25 Hz

1280x720p 60 Hz

720x480p 60 Hz

720x576p 50 Hz

640x480p 60 Hz

2560x1440p 50 Hz

1920x1080p 60/50/30/25Hz

1280x720p 60 Hz

720x480p 60 Hz

720x576p 50 Hz

640x480p 60 Hz

USB2.0

Hi-Speed

1280x720p 30 Hz

720x576p 50 Hz

720x480p 60 Hz

640x480p 60 Hz

1280x720p 30 Hz

720x576p 50 Hz

720x480p 60 Hz

640x480p 60 Hz

COLOR SAMPLING

RGB, YUV (YCbCr444, YCbCr422, YCbCr420)

VIDEO FORMAT

NV12 , YUY2

UAC AUDIO OUTPUT

Stereo / 16-bit PCM encoded audio at 48KHz sampling rates

AUDIO INTERFACE

3.5mm Headset (TRRS only)

POWER SUPPLY

DC12V 2A

SYSTEM

REQUIREMENTS

CPU

i5 Dual Core 2.8GHz or higher

RAM

4GB or higher

OS

Windows 8 and above

MacOS 10.13 and above

ENVIRONMENT

Operating Temperature

0℃ ~ 45℃

Operating Humidity

20% ~ 90%

DIMENSION

146.5 x 177.5 x 33.5m (W x L x H including rubber pad)

WEIGHT

830 G

ACCESSORIES

USB-C to USB-A Cable x 1, USB-C to USB-C Cable x 1, Power Adapter x 1

WEIGHT

830 G
| FILE NAME | FILE FORMAT | SIZE | DATE | |
| --- | --- | --- | --- | --- |
| DATA SHEET_PCI-H01HP2_Partilink PCIe Capture Card | pdf | 400 KB | 2021-07-12 | Download |

Right Panel


Left Panel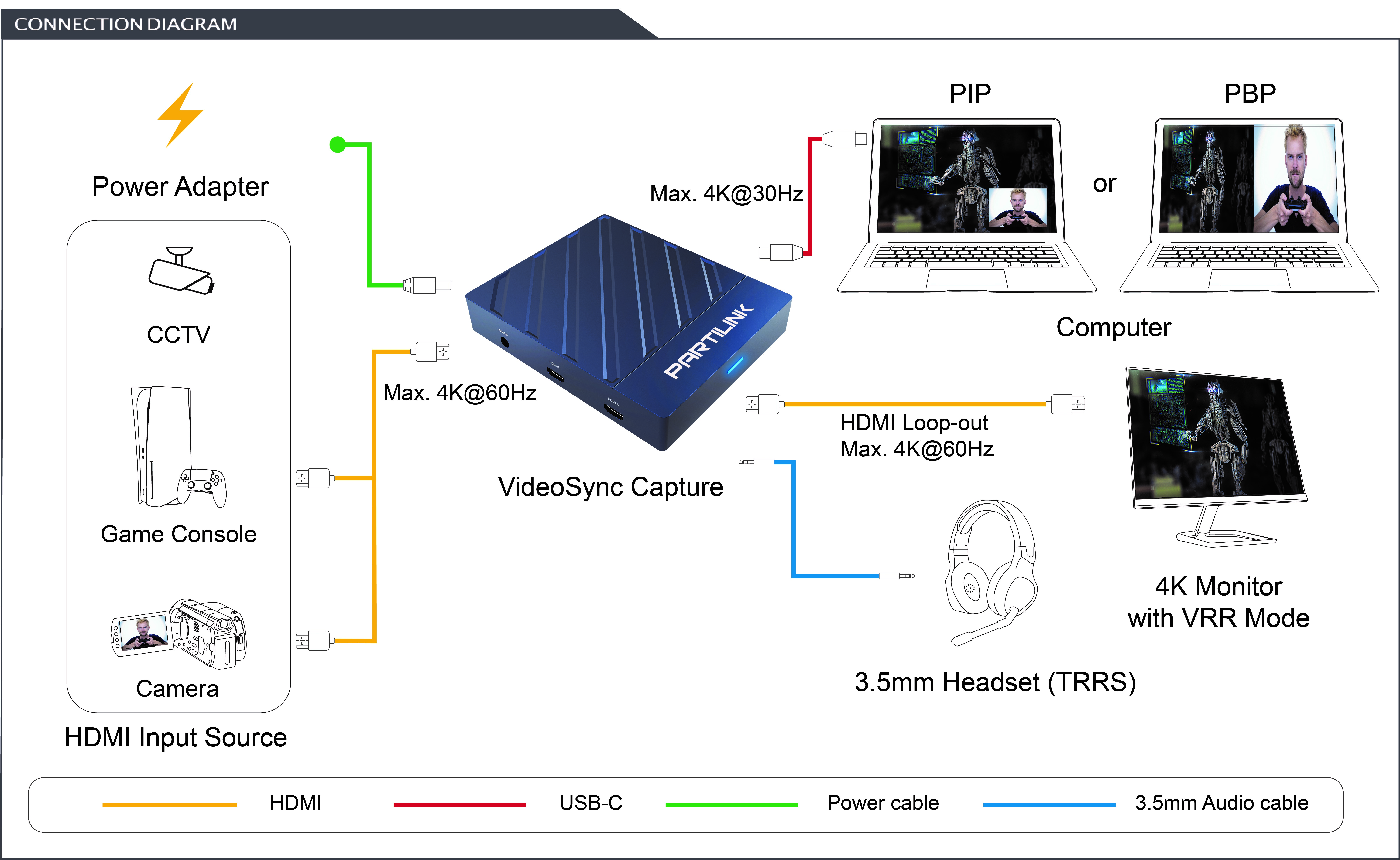 In addition to general contact information, please indicate:
- Product name &/or part number
- Quantity per product
- Lead time to delivery required
- Country of Delivery
- Company Website

Many Thanks !